I like coffee. Did I mention that? I realize I rarely write about anything coffee related despite the 'caffeinated' in the moniker so I think I want to change that and write about coffee now and then.
If you're still reading, thanks!
So today I read an article about the perfect way to use a French Press. If who don't know what a french press is, it's a fancy shmancy way of making coffee in which you pour in water over coffee and do this whole plunging thing. It looks like this: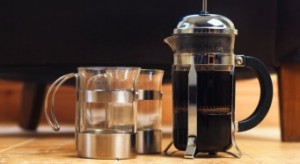 Anyways, this is huge for me. You see, the french press changed. My. Life.
I always liked the taste of coffee but for me, that usually meant getting a mocha once in a while. I started drinking coffee at home many moons ago but it was instant. In a house of chai drinkers, I was the only one who drank coffee and so I didn't want to buy a coffee machine and trying to chug a whole pot of coffee. Don't judge people.
Enter the french press. I bought one ages ago from Bed, Bath, and Beyond (where the cashier gave me lip for not having a coupon. Geez lady, I'm sorry!) and it sat it a kitchen cabinet for a quite a while because I didn't quite know what to do with it. It needs coarsely ground coffee?! I wasn't quite sure how to even get that.
I was at a Whole Foods one day and noticed the coffee and the grinder next to it. I got some coffee and ground it for the french press (there was a tiny picture of it on the grinder so I could figure out the grind), took it home, and made some coffee. It took me a few times to get the quantity and the timing right but then I got it.
Results=Whoa. I couldn't believe that coffee could taste so good.
It didn't stop there. The fact of the matter was this: I could now get coffee beans from anywhere. I soon graduated from Whole Foods and tried beans from local coffee shops in Oakland. The possibilities were limitless and the article I read today will only help me achieve better coffee. This truly is a great moment for me and I…um… don't mind me… I just have something in my eye…
I'll leave you with two coffee articles that I came across today (in addition to the above):
Make Better Iced Coffee with Espresso Ice Cubes
Iced Coffee Guide
By the way, the best coffee I've ever had with my french press has had to be Jamaican Blue Mountain Coffee. Just…wow. Alhamdulilah. Seriously folks, awesome stuff.